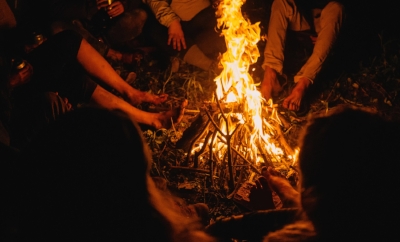 Q: My daughter is going to overnight camp for the first time this summer. I am so nervous for her and for myself! How can I make sure we are both prepared for this big step, physically and emotionally?
A: Within the next couple of weeks, many of our children will be leaving for overnight camp. As a camp director and mother of three children who will be living in bunks this summer, I, just like you, want to make sure that my children are prepared. Today, camp preparation is not just about buying a sleeping bag and some bug spray. Now, there are many ways to prepare our children physically, mentally and emotionally for a sleep away camp experience.
The first way to prepare your child is by purchasing the clothing and various items listed on the camp's packing list. You may be wondering why you need to send your child with so many pairs of underwear and socks. The truth is that some camps send out laundry once a week, while others send laundry out every other week. Each camp's packing list varies based on the frequency of their laundry service. Additionally, there are items on the packing list that may seem superfluous and unnecessary. For example, in our camp, we request both a cover up and a swim dress because the cover up is worn to and from the pool, where the campers can swim in regular bathing suits, since the pool is enclosed by an 8-foot fence. However, the lake is out in the open, and therefore our campers must adhere to the camper dress code at the lake. Following the camp's packing list is one way to ensure that your child will have everything she needs.
But what about those special items that are unique to each camp? You know what I am talking about—the porch chairs and small rugs that somehow everyone else knew about except for you. The best ways to prepare your child with these specialty items is to either find out if the moms in your child's camp are a part of a private Facebook or WhatsApp group, where you can ask these questions, or you can call the camp directly, and ask to speak with another mom who has sent her daughter to the same camp. A third option is to reach out to the Camp Mom or Camper Care Specialist who can also fill you in on the ins and outs of what to send for camp.
Once you know your child is physically prepared for camp, you should then take some time to mentally prepare your child. Most camps today do not allow their campers to call home throughout the camp session. The reason for this is that while children typically communicate throughout their days via technological devices, camp is an opportunity for our children to have real "facetime" with their peers and counselors. Recent studies have found that today's pre-adolescent and adolescent population are more anxious and depressed then the previous generation. Research is now pointing towards an increase in the use of technological devices to communicate with friends, rather than spending time with friends in person. One goal every child should have going to camp is to spend quality time making and cultivating friendships. Moreover, camp is a place to step out of your comfort zone and to challenge yourself by trying new activities. And finally, camp is a place where you can reinvent yourself. Often, children feel that their identity in school has been given to them by their peers and is not who they "really" are. Camp is a place to be whoever you want to be, where lifelong friendships can easily be made.
Many parents are concerned about how they will know if their child is making friends and enjoying herself in camp, especially if she went without any friends. Today, camps hire specific staff members to be photographers and videographers who are constantly updating their websites and social media accounts to let parents follow along. The job of this staff member is to capture all campers enjoying themselves throughout the day and to make weekly videos, so that you can see how campers are progressing. Camps also often email parents with updates and may even post blogs to their website throughout camp. However, if you are sending your daughter to camp alone for the first time, and you are concerned if she will make friends quickly, you can always call the camp and see if they can connect you with another girl who will be in your daughter's bunk. In my camp, we connect campers with girls who will be in their division through our virtual pen pal program. Every camper is connected with a girl her age, so that they can become friends via text or facetime before camp begins. Some pen pals will even meet up before camp if they live in the same geographic location.
Even with the daily and weekly updates, every parent still wants to hear from her own daughter about how she is doing in camp. The best way to ensure that your daughter will write to you is to send her with addressed and stamped envelopes. Feel free to teach your daughter how to address an envelope, so that she is prepared to address her own mail in camp, because the easier you make it for your daughter, the more likely you are to get that letter home. We keep our campers engaged and busy, and writing on a blank page can be a daunting task, so if you want those letters home, or have specific questions you would like answered, make it easier for your daughter by writing them down and then giving her space to answer directly on the page.
Please also keep in mind that the postal offices in rural towns are not as fast as the ones in major cities and what your child writes to you in a letter on Monday may not arrive until Friday. Typically, an issue that was bothering your child when she wrote a letter home is resolved by the time you receive the letter. That being said, if your child writes you a letter that includes something that is even a little bothersome, do not hesitate to contact your child's division head or the Camp Mom. You should never worry about being a helicopter parent who is meddling too much.
Often, parents wonder what they should write in a letter to their child, and if a parent is writing frequently, it sometimes feels like the letters are repetitive. However, letters and emails should be written to campers as often as possible. Campers wait for daily mail and packages to hear about the status quo at home. And that is exactly what campers want to know—that everything at home is carrying on as usual. A cute joke, amusing riddle or funny story are all good things to add to a letter or email. If something serious is going on in your family that you plan on sharing in an email or letter, please contact the camp's camper care specialist, and explain that you will be sharing some sensitive information with your child, so that the camper care team can prepare for your child's response to this information.
When preparing your child for camp, it is crucial that you discuss with her appropriate physical boundaries and attire in the bunk setting. First time campers don't intuitively understand how to get dressed and undressed in the bunk setting. Additionally, children do not all understand that they should not be alone in a bunk with one staff member. These are conversations that you should have with your child before camp. Moreover, every child going to overnight camp should have a designated safe person that she can go to when another staff member or camper is making her feel uncomfortable. Every child should also have a safe word to either write in a letter to her parents or to say to them over the phone. It is important to note, that on a less extreme level, sometimes campers discuss topics in a bunk that will make other campers feel uncomfortable. Every camper should feel secure that she can walk away from any uncomfortable conversation during camp.
Will your child miss home when she is in camp or be homesick? In my camp, we do not use the term "homesick", but rather say that a camper is merely missing home. We explain to the camper that everyone misses home, their families and the comforts of home while they are in camp. This feeling is completely typical and should be validated, and then the camper should be kept as busy as possible to distract her from her feelings of "missing home".
There are certain situations that can exacerbate feelings of "missing home", like a letter from home that includes a sad topic, or even visiting day. To briefly touch on visiting day, the best way to make a visiting day successful is to make your goodbye short and sweet, like when you dropped your daughter off on the first day of preschool. A short and sweet goodbye allows campers to transition back to camp more easily.
Well, now that your child is ready for camp, are you ready? Of course you will miss your child when she is in camp, but understand that you have prepared her to the best of your ability and that you are giving her the greatest possible gift— the gift of camp, which is a gift of independence and gives each child a feeling of accomplishment at the end of the summer.