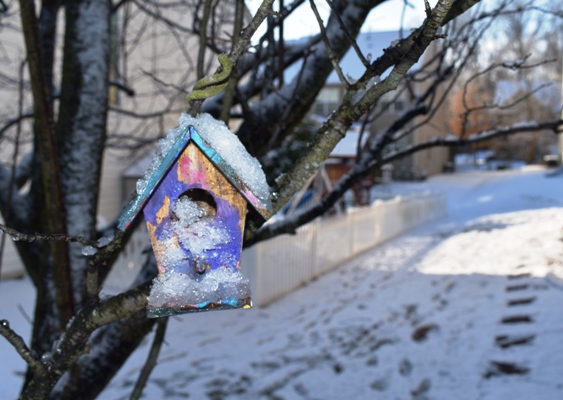 This is a column for the winter. That's what I was asked to write about—chizuk for enduring the cold. Like, how to survive the drudgery of winter.
Seems reasonable, but honestly, I feel too privileged to write this article. I almost feel like a fraud.
Because I live in Miami.
I'm wearing a sweatshirt right now because there's a slight breeze outside. It's actually a magical breeze—only the locals feel it. Visitors would be in bathing suits now, on their way to the pool. But I'm in my sweatshirt because there's a breeze. And if I don't reach into my closet and grab my sweatshirt, and blow off the dust and wear it, I will miss my one-day-a-year opportunity to make believe that it's winter.
How dare I pretend to understand the misery of black slushy ice and face burn and bone chills and ear infections and runny noses and hypothermia and lost gloves and backbreaking snow shoveling and wet, cold darkness all around me?
…winter is the test of endurance. It may seem lifeless, but life is not dead; it's just resting. Because deep in the ground—and deep in your soul—the roots of spring are being revived.
So yes, I feel privileged, and you might think I am unfit to disperse winter chizuk, and maybe I am. And even though I grew up in New York and experienced 21 winters there before moving away to milder climates, I won't mention that, because that sort of condescension is exactly what privileged people do.
But I will tell you that I have experienced some really treacherous emotional winters. And they happened while living in the most beautiful climates. Because no matter who we are or where we live, we all experience emotional—and even spiritual—winters.
Ok, so now can I talk about winter?
It's cold. Painful. Harsh. Unforgiving.
Your body aches, your bones are frigid, it even hurts to breathe.
It's dark. Gray. Colorless. Depressing.
The trees are bare, stripped down to nothing, and life is just dormant. Frozen. Dead. Forgotten.
Meteorological seasons are a basic part of life, and we've learned to acclimate ourselves to them, embracing each one as they arrive. But these quarterly weather conditions are just metaphors to the emotional seasons which we experience throughout life.
Do you ever feel like you're going through an emotional winter? The good news is, it doesn't last forever. It's just a season. And seasons are temporary.
Spring is coming soon.
You see, winter is the test of endurance. It may seem lifeless, but life is not dead; it's just resting. Because deep in the ground—and deep in your soul—the roots of spring are being revived.
Spring! Both meteorologically and emotionally, spring is a time of transition.
Not cold anymore, but not quite warm yet.
It's a time of rebirth and rejuvenation.
Of joy, of hope, of anticipation.
Then, summer! Warm, happy, colorful summer.
The sun is shining, birds are singing, trees are dancing, hearts are flying!
You feel alive. Excited. Content. Forgiving.
But then comes fall. Officially named autumn, I find the title "fall" to be more emotionally apropos.
You fall down from your summer high into a season of mixed emotions.
No longer basking in the glorious sunshine; the air is crisp, and the leaves get highlights, and it is aesthetically gorgeous, but you start feeling chilly, and you know that winter is about to come on strong.
And the cycle continues…
Nothing lasts forever. Not the highs, not the lows. But we can't appreciate the sunshine without the darkness.
We don't get through a meteorological winter, nor an emotional winter, by rejecting it or fighting it.
Standing in the snow in a bikini in defiance of winter will not push it away.
It leaves when it's ready to leave. But it feels longer and colder when we fight it.
And we may lose a few toes.
So while it's here, let's embrace it, bundle up and face it. Get some cute boots, grab a sled, pour some hot chocolate. And remember, the best thing about winter is knowing that eventually it ends, and breezy, bright, glorious spring takes over.