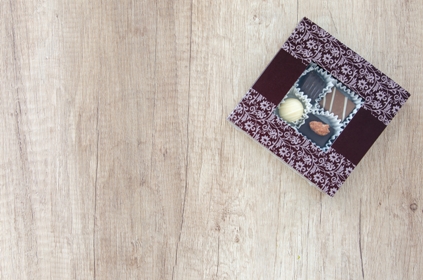 The other night, after having a truly rotten day where nothing seemed to go right, I jokingly changed my Facebook status to: "I have had one of those awful, miserable, terrible days! And there is NO chocolate in the house!"
Right away, I had over ten responses offering me sympathy and virtual chocolate, and my next door neighbor offered to let me come over, despite the late hour, to get whatever candy bars she had in her house! I love my online girlfriends! I declined the candy bars, but I enjoyed the sympathy, and ate that all up! However, over the next few days, my craving for some "good" chocolate kept nagging at me.
Thursday rolled around, and I was having another stressful day while doing my usual shopping in the local Trader Joe's grocery store. I had a specific list and a budget of cash I had to keep within. After loading up my cart with the items on my list, I made the horrible mistake (or perhaps a part of me had intended it all along) to go past their amazing chocolate candy section. At least six different containers of fancy chocolate-covered something or others called to me, begging to be purchased, and for some reason, I was able to resist the urge, and though I lingered and salivated, I eventually forced myself to stay within my list and budget and move toward the checkout lane. While waiting in the checkout, the invisible bubble above my head was working overtime!
"Maybe I should just run out of line and grab the chocolate caramels! $3.99 won't break the budget; I should have enough…maybe if I put something else back? Or I can get the chocolate-covered pretzels—they're less money. Oh, the chocolate-covered cashews sound so delish…", and so it went, until before I knew it, I was completely checked out, and it was time to pay! I had spent so much time in my head that my window of opportunity to get any chocolate treat for myself was gone. So I came back to reality, paid, and just as I was about to push my cart away, the cashier handed me a gift-wrapped box.
"These are for you!" she said cheerfully.
"What's this?" I was so confused.
"We're giving out boxes of chocolates today—enjoy!"
Seriously, I almost got lightheaded from the shock of what she'd just said, considering what I'd been obsessing over not seconds ago!
"Wait!" I began, "Why, are you giving free chocolate to people?"
"We just are. It's a goodwill promotion. Enjoy them—they're really good!"
I quickly looked it over, and on the backside of the gift-wrapped box was the information sticker with the ingredients, and right there was the reliable kosher symbol. I could have cried from joy! Despite the fact that the cashier from Trader Joe's had just handed me the box, I knew in my very soul that G-d had really been the One to hand me this box of chocolate!
"Wow! This is so nice! I am really going to enjoy these! Thank you so much!" I gushed to the cashier, but my sentiments were really directed at the Almighty!
Then I noticed that the cashier was looking at me strange, and it dawned on me that I might be acting slightly goofy, lamenting too long over the candy, lingering in her line, refusing to move on. So I took my spiritual box of chocolate, put it in my cart and left thinking about how special this whole thing was. I drove home with a huge smile on my face, knowing that not only did I get a free box of candy, but I got a Divine gift, letting me know that ultimately, I don't have to post my true feelings on Facebook, because G-d is always listening to my heart and knows what's going on with me. He is there with me every step of the way, lending me sympathy and support—even when there is no chocolate in my house!