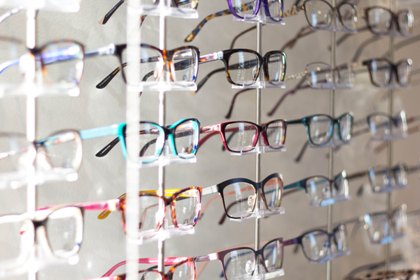 Q: I need a new pair of glasses but I'm overwhelmed by my choices—help!
A: The best place to start is at a reputable optical store which has a staff professionally trained to help you. Any good optical will carry quality products at various price points, so you can stay within your budget, but still find something amazing. The first thing you need to do is figure out what look you are going for. Do you want something bold that makes a definite statement, or do you want something subtle and understated that accentuates your features but isn't distracting? Once you start trying things on, however, you may fall in love with a look you never thought you could carry off, so this is not a hard and fast rule—have fun! I would also recommend that if you are a contact lens wearer, you wear your lenses when trying on frames, so you can see what you look like. If you cover your hair, make sure you wear your preferred head covering to choose frames, since frames look and sit differently with a scarf vs. a wig.
There are three basic frame options:
Plastic – These are very sturdy and come in a variety of shapes, colors and fun patterns. Usually, if you are going for a bold look, plastic is the way to go.

Wire – Wire is very in now, especially the double bar or double bridge style, which is also called the "grandpa look".  Wire frames usually have nose pads, which allow the frame to be adjusted on your face with a little more precision than a plastic frame, but on the flip side, some people find the nose pads uncomfortable.

Rimless – These are just like they sound—they have no frame. This is a classic, timeless look for people in very conservative professions, or for those who just want their face to shine through. Not all prescriptions work well with rimless, so they are not for everyone.
What color glasses are right for you?
There is no right answer here—generally, if you only have one pair of glasses, you want them to work with both your wardrobe and your coloring. Buying a pair of bright red glasses may seem like a good idea when you try them on wearing a black dress, but they may not play nicely with the rest of your closet. Ditto to bold or graphic prints, unless of course, this kind of pattern is your aesthetic, and then by all means, wear them with everything! Tortoiseshell works well on almost everyone, since it incorporates shades of blonde, brown and black, which are universally flattering. I love a chunky black frame for drama—these tend to look best on blondes and very dark brunettes, but again, if you love them, go for it!
What's the story with buying glasses online?
Not all glasses prescriptions are created equally. Patients who wear progressives or bifocals need the lens measurements to be extremely precise in order to achieve clear and comfortable vision, and these measurements need to be taken by a professional. Patients with high prescriptions and/or large amounts of astigmatism also need to make sure an appropriate frame and lens type is chosen, or the glasses won't work well or look good. I recently had a patient return to my office with a pair of glasses she had gotten online that were not working. She was getting incredible headaches with the new glasses, which didn't make sense to her, since her prescription hadn't changed. It turns out the online glasses had the wrong pupillary distance, as well as a high curvature on the lens itself, which was markedly different than what she was used to wearing, so even though technically the prescription was done correctly, there were other parameters that were not taken into account. Buying your glasses in a brick and mortar store ensures that you will have an actual human adjust your frames specifically for your head and facial measurements, so you don't have pesky red indentation lines on your ears and nose. Overall, my advice about buying online is: let the buyer beware.
How to understand the different types of lens options:
Choosing the right lens depends on your prescription and what you are wearing the glasses for. Here is an abridged list of the various lenses that are out there and why you might want them:
High index lenses – These lenses are thinner and more lightweight than standard plastic and work well for high prescriptions.

Polycarbonate or trivex – These are light, impact-resistant lenses, and the safest lenses on the market. All kids should get poly.

Photochromic lenses – These change into sunglasses when you go outside. They are great for active people, as well as kids who find it cumbersome to change into sunglasses.

Anti-reflective coatings – These are great to cut glare when driving or at the computer, and also make the lens itself look cosmetically appealing.

Blue-blocking lenses – These are great to decrease visual fatigue from frequent computer use.
Glasses should be seen as a fabulous accessory, not as a cumbersome device you grudgingly put on your face to help you see. Again, make sure you consult with professionals who are passionate and knowledgeable about their craft, in order to ensure that your new glasses are perfect in every way.