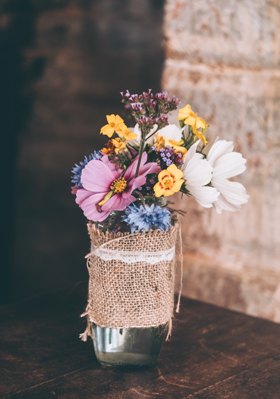 Q: I would love to decorate my home with flowers for Shavuot, but after the expense of Pesach and the upcoming end-of-school-year activities, I have little to no budget for these 'extras'.  Also, I am interested in eco-friendly options.  What should I do?
A: There are a few different options.
Buy a bouquet of flowers and some extra greenery.  Look around your home for vases, empty glass jars, and empty wine bottles.  Then separate the flowers using 1 or 3 stems per vase, and add the extra greenery to visually use up more space. An empty blue Moscato wine bottle with a flower in it is quite stunning. Strategically place the flowers around the room(s) you want to decorate.
Buy a variety of silk flowers and rotate them throughout the year.  Find a resource on flower arranging to come up with new creations.
If you have a yard, prune a tree and use the leafy branches to add that natural touch to your home.
Use marbles or colored glass stones. Display them in a glass or ceramic vase, bowl, or serving piece.  Many people have a large volume of servingware, so find some new ways to use these pieces aside from presenting food.
Spruce up throw pillows by alternating pillow covers.  You can rotate them for a new look and switch them out, depending on mood or season.  They don't take up much storage space and are machine washable.
On this same theme of alternating, de-clutter your tchotchkes. Keep your favorite(s) and re-home the others.  Then, box up some of the 'keepers' and rotate/rearrange your displays. Something 'old' can become 'new again' so you can appreciate what you have without feeling the urge to buy a new piece.
Photos, postcards, or 12-month calendars with photographic art like flowers or nature scenes can be displayed on a bulletin board or wall.  Think back to elementary school when teachers changed the classroom bulletin boards with each holiday, season, or thematic unit.
As shown by the examples above, there are many options to frugally and eco-consciously decorate your home.  Chag samech!