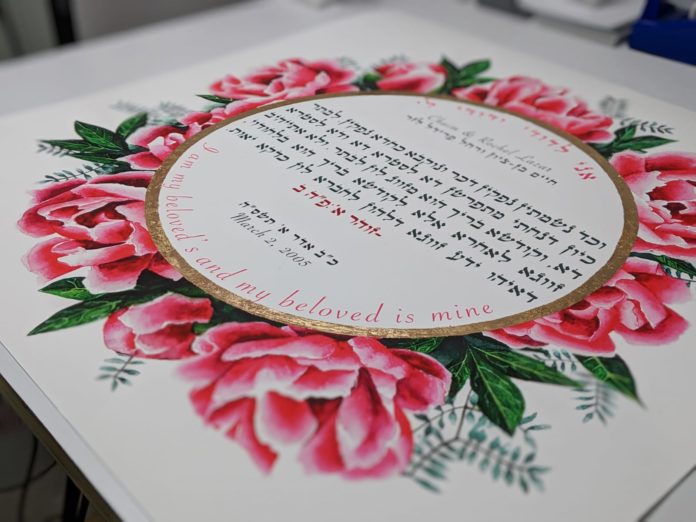 Rachelle Tchiprout is a British-Israeli watercolor artist who left the corporate world a year ago to pursue her true calling—art! She founded The Delicate Brush, a company she pours her heart and vision into every day. Each piece of artwork she creates is a clear expression of her love for the beautiful land of Israel and her trade. And it is a good thing she infuses so much love into all of her pieces, as many of them are often the centerpiece of Jewish weddings—the ultimate expression of love. Her specialty is hand-painted ketubot, although she creates other Judaica artwork as well. She takes great pleasure in being a part of such a special time for so many couples, by creating something that is perfect just for them.
Her designs are unique and magnificent, and she paints each striking detail with careful attention. She loves to combine natural elements with Jewish culture in all of her pieces, and many of them have gold leaf added for that extra special touch. She sells her giclee prints, as well as her hand-painted designs, and even creates custom-made pieces for those that want something even more one-of-a-kind.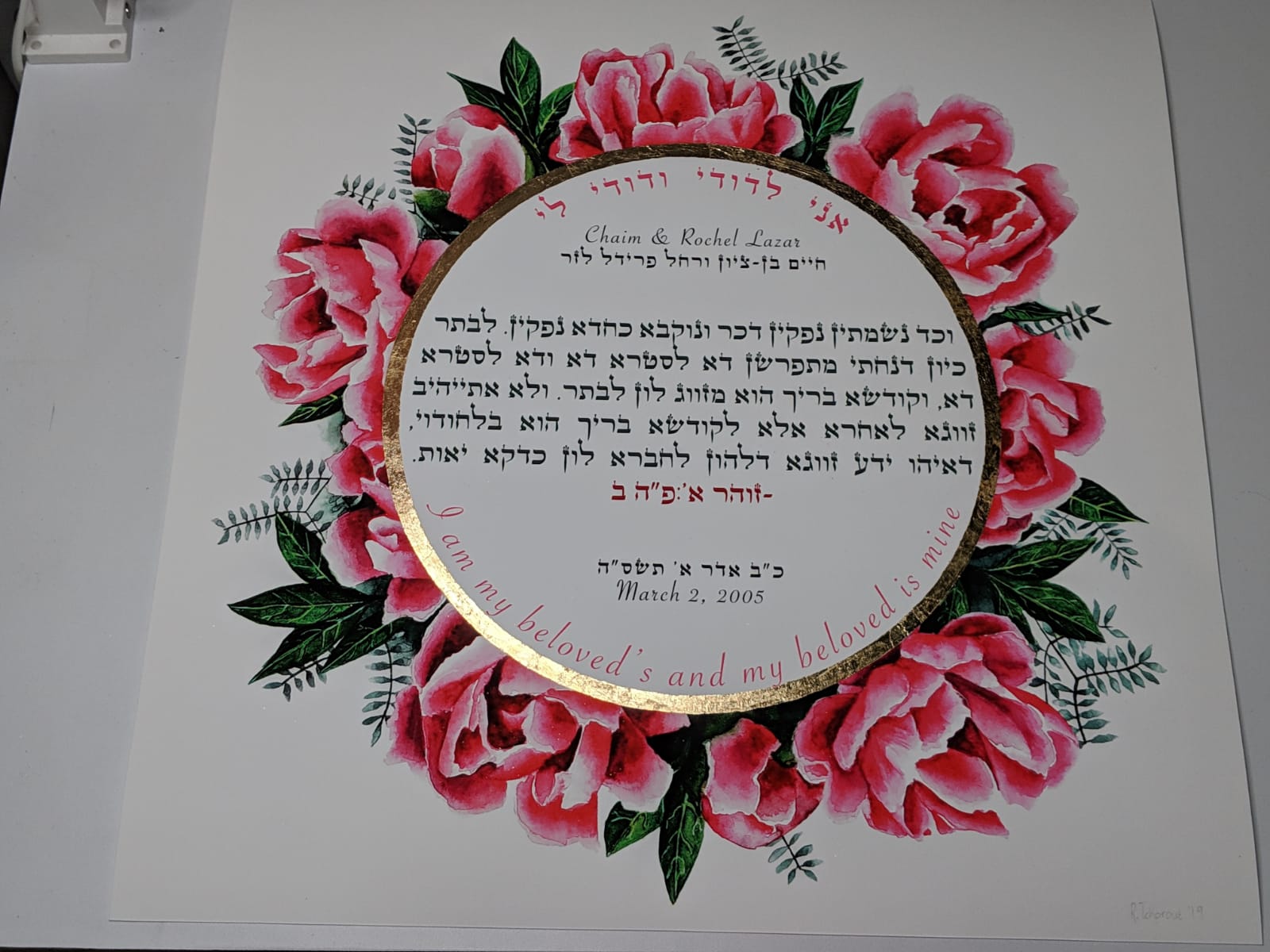 Rachelle created a special print for me as my anniversary gift to my husband. I sent her a copy of the text I wanted her to put inside (a piece about soulmates from the Zohar), as well as our names and wedding date. She listened to my ideas about the design, explained what would work well together and even agreed to additionally put the line "Ani Ledodi" into the piece. I love how it came together, the way she laid it all out and added the hand-made gold leaf at the end, and I especially appreciated how communicative and responsive she was throughout the whole process. When you are designing a piece like this as a gift that will hang in your home for a long time iy"H, you want to make sure it is perfect. Rachelle takes the time to make sure that it is exactly what you had in mind. Honestly, the photos speak for themselves!
Rachelle ships her artwork from Israel all over the world. She was efficient and her turn- around time was great!  You can follow her on Facebook, Instagram, and Pinterest, or email her with questions at thedelicatebrush@gmail.com.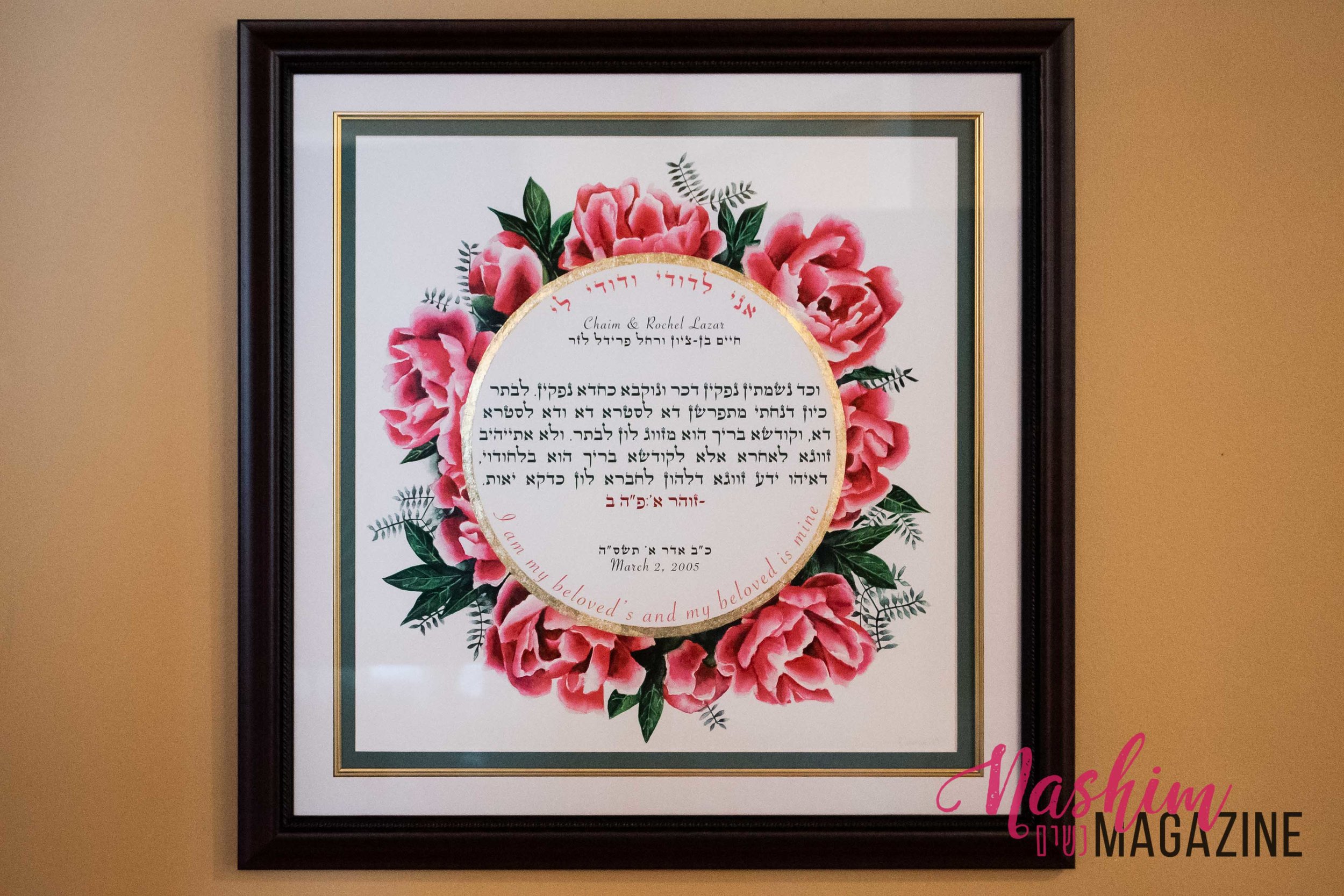 Visit her sites to see all of the gorgeous choices! www.thedelicatebrush.com or www.etsy.com/shop/delicatebrushisrael.
---
Note: Although Rochel was given free product to review, all opinions are her own.
To discuss how YOUR product or service can be reviewed by Nashim Magazine, email ads@nashimmagazine.com.
Photos by Yehudis Taffel