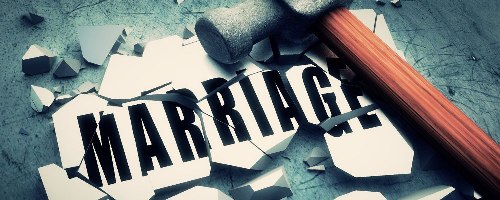 The following article is written with the intention to help you in the early stages after your husband leaves. It is a time to reflect, mourn, get your act together and prepare for legal issues and potential battle. It is also a time to empower yourself to be strong, and if you have children, to create a beautifully transformed family unit with your kids. It is a time to realize that LIFE WILL GET BETTER. I've been there in the divorce process, and I've been on that battlefield. Some of you will be lucky, and the game will be fair. For all the others out there, I'm here to let you know that you will make it through—and you will learn a lot.
Tips and attitudes for the newcomer to take to heart:
1. THINGS CAN BE DEVASTATING, BUT NOT LETHAL.
The dark night of the soul sums up how my life was during those divorce years. Trial and tribulation were my constant companions. I truly had no idea how I'd make it through emotionally, financially or in any other way.
But I did. And so will you. Devastating things will happen. Shock and complete despair may accompany you, and you will survive. Gloria Gaynor's song, "I Will Survive", was my theme song. Her words have supported many women through divorce. Find something—whether it be a song, poem, etc.— that resonates with you and can be a mantra of hope during this dark time.
2. BE PREPARED: FIND GOOD LEGAL COUNSEL AS SOON AS POSSIBLE.
I was a washcloth when my husband left, and I procrastinated on the legal stuff. My kind accountant said to me, "Julie, do you have a lawyer?" I answered, "No. I don't have the energy or wherewithal to find one." He quickly responded, "Get one. Now!" I am now instructing you to do the same. If your husband left, he has been thinking about his strategy for some time. You will need support and legal counsel to make healthy choices.
3. BE YOUR OWN HERO.
Look within yourself for support. You may never have done your finances or taken care of household emergency situations before, but now you will. You are WAY stronger than you know. Being your own hero means taking care of things on an ongoing basis and finding those who can truly help you.
I learned many lessons in this area on my journey. My trusting soul had an awakening in many ways. People have called me naïve. Perhaps I was. Until my divorce, I never saw any reason not to trust or judge on the side of merit. I truly believed people were ultimately good inside and out. The divorce process showed me that the world doesn't run with only goodness as it may be meant to. Lack of financial disclosure and legal supremacy runs a big part of the divorce game. For many, how not to pay proper support and get away with lies is part of this game…it's sad, but true.
A word to the wise: Keep one eye open at all times. As my Aunt Hezzy instructed me: "Butchy (the family dog) would sleep with one eye open for the rats that came from the river close by, in Sydney, Nova Scotia. Be like Butchy. Keep one eye open to any and all information that passes your way from your lawyer or his. Hope for the best and be prepared for the worst."
4. AQUAINTANCE-FRIENDS WILL COME AND GO. (True Friends are here to stay.)
Some people just can't handle the situation. They don't know how to be "loyal" to both you and your soon-to-be ex. Some will choose between the two of you. Some will disappear. Your TRUE friends are here to stay. Don't take it personally. It is about their character, not yours.
5. NO SHAME: JUST BECAUSE HE LEAVES DOES NOT MEAN YOU ARE BAD, UNLOVEABLE OR TOO MUCH.
It does take two to tango, and therefore, we are responsible for our part of the relationship that failed, but just because he left does not mean you are defective. It means he made a decision. Hopefully, he made it with kindness toward you and your kids. Many men leave blaming their wives for this or that, as though it's all their wives' fault. Sorry…that doesn't fly in reality. In reality, we are all unique and precious, and have our own journey to follow. Claiming responsibility for our choices is the mature route to take. Remember you ARE loveable. Start by loving yourself more.
6. LIFE IS GOOD, NO MATTER WHAT.
Repeat after me:
I can survive, I will survive…and eventually you will say: I did survive (and thrive!). The sun will shine again, and that better life will be yours. You are in the process of moving forward toward that better life. Remember joy is attainable—even in the darkness and adversarial times. It is a matter of finding what brings you joy and bringing that into your daily life. As I drove home after a court date, I'd stop into a Starbucks and enjoy a cup of coffee. Little things like this each and every day make life more doable, and before you know it, the process is done.
Once again, I want to reiterate that you will make it through the process. At times, it feels overwhelmingly daunting and downright frightening, but you are stronger and more capable than you know. Find your inner strength and keep on going. You will move on.