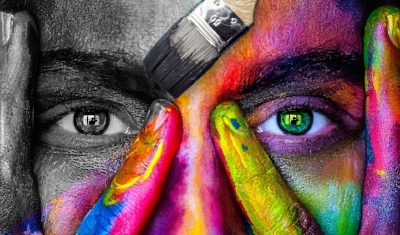 My color journey started in a suffocating black hole. The kind of hole that is full of shades of grey and black, where everything is a "you must" or a "you don't" or simply an "it's just not done that way". I felt that there was so much more for a very long time, but I didn't know where to begin, how to step out of the shadows. My new life began with my huge weight loss of 132 pounds, by changing my whole lifestyle and diet—going from being severely obese to a normal weight. With that, came the courage I needed—and the perfect opportunity—for a new beginning. I donated all of my huge, dark and dull clothes, and with everything new I bought, I made a point of bringing color, spirit and creativity into my life.
I was discovered as a model and worked briefly for an Israeli fashion brand as their first-ever religious model. That's when I began my blog about my modest—but very colorful—outfits on Facebook (Leorah Hallel Goldberg), Instagram (@leorah_hallel) and Twitter (@Leorah_Goldberg). As the weeks went by, I became more adventurous and started to wear atypical combinations of colors, patterns and styles. The more I allowed myself to dive into this experiment, the more I discovered my own creativity. To a certain extent, I needed to break free. But for the most part, I finally wanted to be beautiful—beautiful in the way I see myself, not the way I was expected to be. The experiment turned very quickly into something more substantial, in the sense of this is what I was born to do; this is my place.
Ever since, I have dedicated my life (besides running a family with seven children, ages 2-11) to beautifying the world around me in whatever small way I can. G-d created a colorful world; there is color in abundance. Now, I am using the gift He gave me to encourage women all over the world—from different cultural and religious backgrounds—to be creative, to dare to step out of their comfort zone and to finally be the queens they were supposed to be. This message is an essential part of my beauty and lifestyle channel on YouTube (Leorah Hallel Goldberg), which I started in May 2018. My own transformation made me realize that I am the queen of my own kingdom and that it is up to me to act accordingly, dress accordingly and value myself as such. It is my responsibility as a woman, a wife and a mother to claim my throne and to settle for nothing less. I realized that when I consider myself a queen, my husband will be a king, and my children will be the heirs to the throne. A very powerful message indeed.
My YouTube channel has provided me with a lot of new ways to be creative and to give of myself. As a makeup artist and passionate beauty enthusiast, my channel started out simply as a place to share style and techniques. But I soon realized that there was more I could give, that there is a truth I'm still learning, a message I would love to get across to women everywhere—that it is ok to not blend in, it is ok to try new things, it is ok to value yourself. And it is never too late to turn your life around positively, whether regarding the things you wear, your diet or your relationship with your husband, your children and others. There is a whole world of opportunities created for us out there, and we may just have stopped seeing them. This is my personal learning process, as well as what I want to encourage other women to experience. Yes, beauty is in the eyes of the beholder, and I am aware of different standards when it comes to modesty. Because of this, I never tell anyone to be exactly like me. But I want to encourage women to dress up, even when they are at home all day. To be pretty just for themselves, because it is good for their female souls.
Women have started writing to me, asking me for advice in personal styling. I've been asked to film tutorials on turban and headscarf wrapping, which I now do once a week. And I'm honored to have my first collaboration with Wrapunzel—who provide an amazing variety of scarves, tichels, shapers and accessories to make covering your hair pure joy—showing and using their products in the tutorials on my channel.
In my life apart from social media, I am establishing myself locally as a makeup artist and stylist. I see this as my personal Tikkun Olam. I have done makeup on women with severe depression, and on girls who suffer from anxiety attacks, who have walked away from the makeover with a huge smile and renewed self-confidence. I love the power of makeup, how I can accentuate and emphasize the most flattering parts of a woman's face, so she can look in the mirror and see the queen she had forgotten or never knew she was.
Venturing out into the fashion and beauty industry on social media and in real life as a religious person took a lot of courage. But every challenge you master starts with the first step. Whatever your challenge is, just try to make the tiniest change; take a baby step towards your goal. It may take some time, but you will get there—the place where you feel comfortable and free, where you can experiment and find yourself, where you can let your inner queen grow and see over time how it shows on the outside.
Colors are life. G-d has created all of them in perfection. In nature, flowers of different colors and shades will grow next to each other, and it will look like a perfect painting by the Master Himself. This is my greatest inspiration. I decided that I want this powerful, pure creativity in my life, to let it run through me and see what happens. I stopped being scared of what people think of me and trying to please them. And as I started to wear my colorful outfits and dramatic makeup looks every day with confidence, people began to look up to me, wanting to know what drives me and how I achieve it.
This is what I'm dedicating my life to now. Women are born very beautiful, creative and spiritual, but so much of that potential gets lost on the way. I want to bring some of this back for whoever is ready to embrace it. This journey of color in my clothes, makeup and headwraps has been a blessing in abundance for me. I believe it can be for others, too.