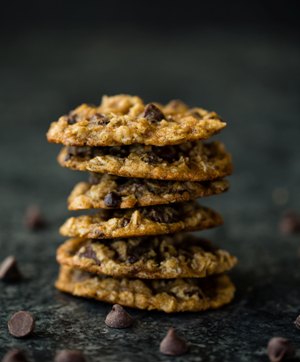 Many years ago, my husband and I created an excellent recipe for non-gebrokts cookies that I baked only for Pesach. These cookies became so addicting that over the years, people who ate at our house for Pesach began to call us months in advance to book meals at our table, with the agreement that I would be baking "those special" cookies. Though I never advertised, some people would go so far as to offer to purchase batches of the cookies from me!
One of my dear friends would randomly ask me several times during the year—half jokingly, but half serious—if I could please just give her the recipe. However, I vowed never to give anyone any of my recipes, because I had always planned to write a cookbook one day.
Flash forward nearly twenty years, when most of my babies were grown, and my oldest was entering the shidduch world, with the others not far behind. Any parent whose child is 'in the parsha' knows it can be a very stressful time. Hitting a dead end, I was advised to call a specific lady from a community where we'd lived years before. Upon calling her, I found out that she remembered me, and it was nice to schmooze and catch up with her. Then I got to the ikker of our conversation—for over an hour, she helped coach me with advice on how to navigate the often rocky road of dating which my daughter was traveling. As our conversation was coming to an end, I thanked her profusely for giving me so much of her time and advice.
She graciously and profoundly replied, "It was my pleasure! I like to share the knowledge I have with anyone who needs it! It's like giving out recipes; I never saw the wisdom in not sharing delicious recipes. I know so many people who hoard them, and it's a shame! If you have something good and delicious like that, why not share with as many people as you can? That's how I view my knowledge—I will give it away to anyone who desires it! If I can help someone, I feel good about it."
As her words impacted me, I wondered if I had ever withheld a recipe from her when I lived in her city. However, the more I thought about it, the more I realized that we were never in the same circles where it might have come up. So I deduced that her analogy must have come straight from Hashem Himself—and right into my sensitive heart!
After hanging up with her, I processed our conversation even further. Once the meaning of her parting comment sunk in deeper, I realized that my recipe-hoarding had now taken on a new meaning for me—and it left a bad taste in my mouth. Just the week before, I had hosted our shul's Ladies' Shalosh Seudos. For our small community, this is quite a big deal. I had prepared all of my best salads and baked all of my best cakes and cookies. A friend of my daughter—the one in shidduchim—had come up to me and told me that my carrot cake was the best that she'd ever tasted and that her chossen loved carrot cake. She asked me for the recipe. I thanked her for the compliment, and then replied that as a rule, I never give out recipes. My daughter later told me how sad this girl had been.
So as I sat there, having just hung up the phone with a woman who had given me over an hour of her time to help my family, out of the goodness of her heart, and I made a vow with Hashem that I would give out my recipes from then on—with the condition that the person receiving them would simply daven for my daughter that she should find her zivug speedily!
The next Sunday was my daughter's friend's wedding shower. My daughter went out and found a gorgeous glass cake stand, and I made up a very pretty recipe card for my carrot cake, with a special note to the kallah. We gave the beautifully wrapped gift at the shower, and when she opened it and read the card and recipe, there were tears in the girl's eyes!
Next, I placed a call to my dear friend. Even though Pesach had just ended a month before, I left her a voice message that said, "Call me back—I have something for you that you've wanted for a very long time!"
When she called me back later that night, she jokingly started out the conversation with, "Shayna, tell me—do I finally get the Pesach cookie recipe?!"
All I said was, "Yes."
Silence met me. It was as if she couldn't process my answer to her joke. Then she asked if I was okay.
After explaining why I was actually giving her the recipe, she was so touched that she verbally spoke the bracha for my daughter out loud. I answered with a hearty, "AMEIN!"
One month later, my daughter met the wonderful young man that she would marry! A year later, they had their first baby! Hashem works in miraculous ways, but sometimes, we have to meet Him halfway!
When making either of these recipes, kindly daven to Hashem that Shoshana Eliana bas Chaya Shayna finds her zivug soon!
Hunt Pesach Cookies
(non-gebrokts)
4 egg whites
½ teaspoon salt
1 cup sugar
1½ cup shredded coconut or 1½ cup ground hazelnuts or ¾ cup coconut and ¾ ground hazelnuts
1- 10 oz bag semisweet chocolate chips, melted
Preheat the oven to 250°. Beat egg whites until stiff. Gradually add the sugar and the salt. Fold in the nuts/coconut. Drop tablespoon-size amounts of dough onto greased foil-lined cookie sheets. Place in the top shelf of the oven for 1 hour. When 100% cool, and the cookies can be peeled off the foil, place them back on the foil, and drizzle melted chocolate onto them. Rapid-cool in the freezer. Store in Ziplock bags in the refrigerator or freezer until ready to serve. ENJOY!
(Non-Pesach) Carrot Cake
Pareve version or gluten-free version
4 eggs
1¼ cups sugar
1 cup oil
2 cups flour (or all-purpose gluten-free flour)
2 tsp baking soda
1 tsp salt
1 tsp cinnamon
1½ cups shredded carrot
1 cup shredded apple
½ cup chopped pecans
Preheat the oven to 350°. In a large bowl, beat the eggs, sugar, and oil until mixed. Add flour, baking soda, salt, and cinnamon. Then add the eggs. Beat all together until thoroughly mixed. Stir in carrots, apples, and pecans. Pour into 2 greased and floured 9 inch round baking pans. Bake for 35-45 minutes or until knife comes out clean. Cool cakes before frosting them.
Pareve Cream Cheese Frosting
1- 8 oz tub of room temperature dairy-free plain cream cheese
½ cup room-temperature margarine
Mix these two ingredients together, add 2 tsp of vanilla extract, and beat until fluffy. Gradually add up to 5 cups of powdered sugar. Spread over the top of the cakes to make a two-layered cake, and decorate as desired. ENJOY!