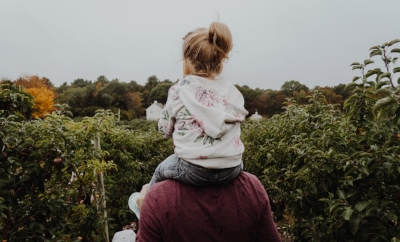 Written in memory of Avrohom Gershon ben Elimelech Gavriel, on his 34th Yahrtzeit
We called him Poppy.  I remember that he was kind, caring and loving.  He was 36 years old when he passed away.  I always knew he died young, but to a little girl, 36 sounds pretty old.  I've now lived longer than he did.  Now that I'm older than he was when he passed away, I'm finally able to put into perspective how short his life truly was and what a blessing each day really is.  I don't think my father ever expected to die so young, but he accomplished a lot in his short life.  He died when I was only 4 years old, so I don't have many memories of him.  Most of my memories were created by hearing stories about him from friends and family.
I do have one personal memory that I treasure.  It was the end of the summer when I was 3 years old.  I, along with a couple of my siblings, had been sent to Toronto for a month to visit cousins, so that my parents could focus on my father's illness.  It was quite traumatic to be sent away from home at such a young age.  My father came, at the end of the summer, to pick us up and fly back to New York with us.  I remember being on the airplane with him and feeling so proud that he was my father.  During the summer, my family had moved to a new city, where the air was cleaner, in the hope that it would help him heal.  I remember walking into our new house with him and feeling like I belonged.  That's all I remember on my own, but there are many stories about him that others loved to share.
My father was the dean of a school for those who had limited exposure to Judaism and were trying to learn more.  He was loving and accepting of everyone, regardless of their background or their level of commitment to Judaism.  Our home was always full of people—men, women and children; all were welcome.  His motto was, "there's always room for one more", whether that was in the house or in the car.  We were all used to giving up our beds and cozying up together on the floor for the night, so that we could accommodate last minute guests.  Not only were we used to it, it created some of our favorite childhood memories.
Soon after his own marriage, while my father was at a close friend's wedding, it became clear that there was extreme tension between the bride's and groom's families.  Toward the end of the wedding, this turned into open animosity, and there were threats not to follow through with payments to the wedding hall and caterer.  When the caterer caught wind of this, he locked the doors to the wedding hall, effectively keeping all the guests inside, until someone came through with the money he was owed.  When my father realized what the underlying issue was, he asked the caterer to please let him out so he'd be able resolve the issue for them.  My father went home, gathered all the cash he had received as his own wedding gifts, and quietly paid the money owed to the wedding hall and the caterer.
He died of the dreaded disease, cancer, after less than a year of being sick.  He was in a ward for experimental treatments at the time, as cancer treatments were not as advanced as they are today.  He left behind a widow and 10 young children.  It sounds tragic, but because I was so young at the time, I didn't fully recognize that I was missing anything in my life.  My mother, older siblings and relatives stepped in to attempt to close the gaps.
Since I didn't remember having a father, I couldn't really miss him either.  But there were gaps and insecurities that I was only vaguely aware of.  As a child, I sat in class and had vivid fears of the rest of my family disappearing, and I imagined coming home at the end of the day and finding an empty house.  It was only as an adult that I was able to understand that these fears were connected to losing my core stability at such a young age.  The holidays should be a happy time, but I always felt unsettled as they came near.  Relatives would come to visit, my uncles would lead the seder, but I no longer belonged; I no longer had a place where I felt completely safe and comfortable.
When I was 15 years old, my brother had to be hospitalized for a couple of weeks before Pesach.  My mother was in the hospital with him day and night.  It was the first time that I fully recognized that I was missing a parent.  Someone needed to be with my brother in the hospital, and someone needed to be at home, preparing for the holiday.  My mother could not be in two places at once, and there was no one home to help us prepare for Pesach.  I cleaned, cooked and did the best I was able to, but a 15 year old is no replacement for a parent.  As the holiday started, the emotions overwhelmed me; it was the first time I cried my heart out over what I had lost more than 10 years earlier.  I had never had the opportunity to properly grieve for my father, and now that I was grieving, it wasn't truly for my father, but for all I had lost by not having a father all those years.
I often wonder what my life would have been like if my father had been alive.  Which decisions would have been made differently?  How would he have guided me at different crossroads in my life?  How would he have supported me emotionally?  Would I have gone to the same schools, lived in the same community, married the same person, taken the same career path, decided to get divorced?  And I have to accept that there are no answers to these questions.  Instead, there is a part of him inside of me that guides me every minute of every day.  I have his strength and his softness, his ability to analyze and his caring for others.  I recognize him inside myself when I reach out to a stranger to make their day a little happier.  And I know that he's watching me all the time and is proud of who I have become, even with all my flaws and the mistakes I make.
I talk to my own kids about my father, including my older son, who has his name.  I tell them about the grandfather that they were never privileged to know.  My kids know there's "always room for one more", and that we need to treat all people with love and kindness.  I mentioned that my father died on the 36th day of the Omer, and my son commented that the counting of the Omer must've been a very sad time for us.  I made sure to share with them the love my father had for every person, so that they can continue my father's legacy of love.