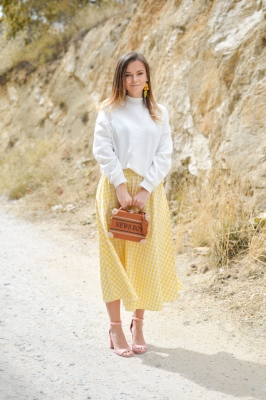 Modesty is a privilege, at least one for me. I have a fashion blog on Instagram, and what some of my followers don't know, is that I am a Sephardic Jew, born in the former Soviet Union, a previously communist and atheist society. My family immigrated to the United States in the hopes of a better future, seeking equal opportunity, religious freedom, and the right to free speech. 
Although my parents were traditional, they placed me into a baalei teshuva school, where I slowly learned about the beauty of Judaism. Getting closer to Hashem and observing His mitzvot was a very slow process. In fact, the very last mitzvah I took on myself was to become more modest. It was EXTREMELY difficult…I remember crying over my jeans. I mean, how could a 20 year old give up a pair of Seven for All Mankind jeans?! I had every style in every pair of brand name jeans out on the market. It was an emotional inner battle, but I just had try out wearing skirts. I was on a mission, so cutting up my Citizens and True Religions and turning them into denim skirts was my first attempt at feeling better about this mitzvah. The next step was moving on from tank tops to cap sleeves. I later tried wearing shirts that were less low-cut, and the sleeves grew about an inch or so longer. Yes, small changes, very slow and small changes. But who else can relate to these tedious changes?! I know I can't be alone in this.
With every new change, I felt very accomplished. As time passed, I realized my parents and grandparents were robbed of the idea of G-d, and any connection to Him, due to the cruel Russian regime. They would have been imprisoned for observing Hashem's mitzvot in public. This was my rude awakening. I finally felt privileged to dress my best, and in the ways of Hashem—not only to be modest in dress, but modest with my actions as well. Each day is a new journey, and the modesty struggle is real.
My Instagram name, "ASK.AND.ILL.TELL", was in inside joke I had with my close friends and family. I was always the go-to person that everyone would seek for the latest 411. They'd ask me, "Where's the best new place to eat; best wig shop to buy from; best dress store for attending an event; latest makeup palette to buy?" Since I always had a passion for makeup and fashion, I decided to open up an Instagram page, where I can voice my personal style. My style reflects clothes that are more affordable and bright, while still staying modest as possible. I shout out and tag the clothing I post, as well as the wigs I wear. Who said you can't look amazing when you are tzenuah?! I understand that modesty is personal to everyone, but if I can be an inspiration to even one girl who is thinking about growing in her modesty, then my own journey was well worth it! Thank goodness we now live in an era where we can get so much inspiration from frum fashion bloggers. 
I want to share some ideas on how to look fashionable, yet still tzniut. The first thing you can do is find pieces that cover one area, and then layer over the not-so-modest, uncovered areas. For example, I often find unique and colorful dresses made of lace that have the closed neckline and 3/4 sleeves, but the length is just too short! Designers today leave very little fabric to have it lengthened. Not to worry—there are stores that carry slips and dresses you can wear under these shorter dresses. They're made of pleated tulle that can take any long shirt or shirt dress and turn it into a new modest ensemble! 
Also, adding a pop of color to any outfit can create an exciting touch that leaves you feeling youthful and feminine! Pick patterns that are fun and bold, and don't be scared to mix prints. If you stay within the same color scheme, they will look like they were meant to be worn together! Of course, you can add color with your accessories, and an outfit that costs only $75 from head to toe looks way more expensive! You can also take a simple dark shirt and pair it with a floral bright skirt. Be a little daring, and add neon shoes to your shoe collection!
I can't express enough how important it is to wear colors! There is no law against women wearing beautiful colors in the Torah. Modesty is supposed to be attractive, but not attracting, which many women confuse with wearing only black—this is completely the opposite of what the Torah stands for! Colors represent various auras. Positive colors, such as pinks, purples, and blues, are just some of the great colors out there that make women look and feel amazing!
Lastly, if you don't have an eye for layering clothes, you can always shop online at stores that have ready-made modest clothes. Many of these modest clothing stores have dresses that come in styles of various colors and prints. Just put on a little bit of makeup with your dress, and then add a belt or motorcycle jacket and some heels, and your work is done!
I am no longer crying about my jeans. In fact, I often post on Instagram, wearing my favorite jean skirts! Remember, if you ever find yourself lost for ideas of what to wear or where to buy the latest modest fashion trends, just Ask and I'll Tell!