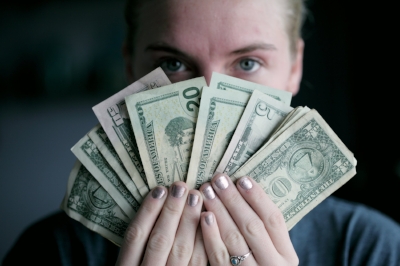 As a young, Orthodox mother in this generation, I am faced with a deep fear of how I will structure my future in a Jewish lifestyle, financially speaking.
I grew up in Moscow, Russia, and was born to a kiruv-dedicated family who moved there in 1989, just as the Iron Curtain was falling. My parents founded the school I went to and the overall Jewish community I was a part of. It was a rather unique upbringing. My father was the rabbi, my mother was the principal. My world was very small, and being Jewish was an extension of being in the Goldschmidt family. I am so blessed to have attended and graduated from a music school, taken art, dance, and voice lessons, and visited art galleries and museums. As the years went by, and my 6 siblings and I grew up, we all left home for Israel and the US, to continue both our secular and Jewish education.
When I left Moscow, I started off in Michlala seminary in Jerusalem, and then continued onto Touro College in New York. I went on to marry my husband in the same month I graduated with my bachelor's in business, and that's when real life (economically speaking) as an Orthodox Jew began. Until then, (and I am grateful for this,) my parents took care of everything I needed, even though I always hustled and made side money, with music and other gigs. Once I was married, it was like being born again, because being an Orthodox Jew in the US is nothing like the way I grew up, in addition to the fact that I was not the one paying the bills then either. However, I picked up on things like expenses and how checks and balances worked, so when I slowly got introduced to the way Jewish life works in the US, it took me by awe and surprise.
As an outsider, let me tell you what shocked me.
The school I attended in Moscow was a Russian state school with Jewish ethnics; we had a Jewish education, Jewish holidays, tefilla and kosher food. The meals were free. The music school I attended was also state funded. So as a child, I never heard of the "tuition crisis" or anything like it.
After I got married and started interacting with other married couples and families with kids, I was quickly introduced to the speeding train of the tuition bill. Over time, my head started to think of checks and balances, and how one needed to make a lot of money to support a medium to large size family (a standard, and expected, size for an Orthodox family, mind you). I felt guilty even considering the decision of how many children to bring into this world based on financial ability.
The reason I am writing this piece is because my experiences have led me to question and dislike the situation that we, as a Jewish community, have put ourselves in.
In order to live comfortably as an Orthodox Jewish family of 5-6 in the States (and of course it's different in other countries), one needs to earn a very high salary. Because in addition to basic living expenses any secular person has, there is: tuition, shabbat, chagim, smachot and miscellaneous/mitzvot (including kosher food, sheitels, shabbat wardrobe, stockings… and more). There is also cleaning help, camps, Yom-Tov vacations, therapy, exercise, and the list goes on and on.
I have two issues:
One is that the things we need as Torah-observant Jews are usually sold at a very high premium by Jewish vendors, making being Jewish an extremely privileged lifestyle. I am young and hopeful, but I'm also disappointed in what our values have become. I don't want to have to live poorly. The only answer I see to survive, is to make a lot of money, and that will lead us back in circles.
The other issue is that this environment has created a money-hungry society, a mindset where, for an average person, whatever one makes will never be enough. Raising my children to be money-driven seems like the practical thing to do, and though I don't want "money" to be a central value, it is.
There are many of those who solely believe Hashem takes care of everything, and that is why topics like "money" shouldn't be discussed in public or in private. It is as if these discussions are challenging one's emunah in Hashem. However, I believe it is our responsibility as parents to have a plan and do our hishtadlut, before bringing children that are fully dependant into the world.
Are there any other options? I don't know, I just know talking about these issues, and educating children at a young age about choices they make with their financial consequences, is really important and necessary.
As an observant mother, I don't want to have to give up luxuries I would hypothetically afford with my income if I didn't have a "kosher" lifestyle, or to have to think about downsizing a family I have yet to create, yet my religion seems to be demanding a lot, financially. Because after tuition, there is little to nothing left on a "decent" salary in mainstream America. What kind of life are we creating for our children? Is there anything that can be done to form a future that makes sense?