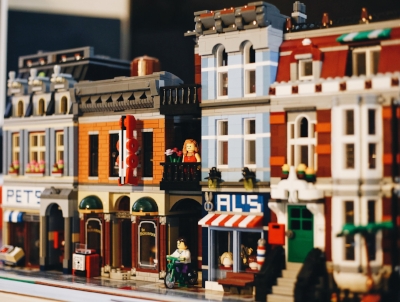 Today I stormed a castle,
Razed a village and a farm
The knights with swords and sheriffs' guns
Were helpless to my arm
I smashed a soaring spaceship
Trashed its tower full of lights
I tossed a school of children
They did not put up a fight
I overturned a city
with its office buildings tall
I leveled all its skyscrapers
tumbling as they fall
A house with rooms and furnishings
A highway and a crane
Unique creations pulled apart
Born from my children's brain
But as I said goodbye
To every interlocking part,
I smiled as I wiped a tear…
What ends will bring new start
My "baby" is in middle school
My need for Lego gone
But now I welcome grandchildren
Who'll sing their own new song
New toys, new books and new creations
All are on their way
And some old faithfuls will remain
And memories will stay.
I don't regret the things we say
goodbye to when they're done
Another family's spaceships must be built,
…We pass it on.
Thank you kids, for all the times
You led me by the hand
To show and carefully describe
Each piece you'd placed and planned
The towers may have flown
now built on someone else's floor
But each clicked piece's love you placed
Lives in me – each day more.