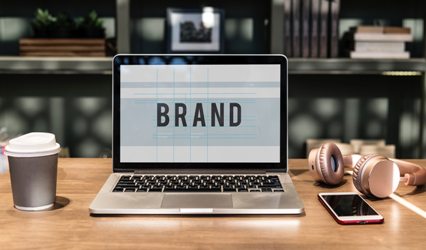 Q: I just started a business, but now what? I need a store sign, a logo for packaging, and a website. It's so overwhelming–where do I start?
A: This is what my inbox looks like 90% of the time, and I want to share advice that will help you entrepreneurs 100% of the time! Starting a business is stressful and expensive, so my job entails handling the look and feel of my clients' business. A business needs a visual identity—something that the world can recognize it by. These are the logo, packaging, and the colors used for packaging and marketing. The process of figuring all of this out is called "branding". The next stage is marketing, which is where we explore how to sell your product and brand your marketing materials to get your business out there. Over time, your business will be easy to recognize because you're identified by your brand…notice the cycle?
Two important questions to think about in regards to how you want your brand to feel: a) Who is your clientele/audience? b) How you can stand out from competitors? When a client approaches me with a request to brand their business, I suggest starting with a logo, since the logo will be placed on EVERYTHING; the product, the swag, the website, and beyond. Next comes the website, which is an organized place to make and manage sales. Giving your logo and website that extra something in its look and feel, while keeping in mind your targeted clientele, will be what makes you unique from the competition.
During the logo creation process, we explore color, style, and how these designs will translate into marketing materials, such as ads and brochures. There's more to the logo creation process than just an icon and the business name; I use this opportunity to think long-term and figure out how all of the elements of the business can match the logo and vice versa. We also see what competitors are doing and examine if there is a running trend in the field. For example: leaves = organic? Maybe we can incorporate that into the website, showcasing your organic product. Your customers' minds are trained to make that visual association.
Before you contact a designer or a firm to strategize your brand, gather inspiration and find out what you like. When you're shopping at Target, and you see an oval-shaped logo with silver lettering on a shaver package and it just screams "AWESOME" to you, snap a photo on your phone, and keep that handy for the branding consultation. It's important to convey an idea in visual language. So instead of telling your designer that you "want an AWESOME logo," whip out that photo and say, "This logo caught my eye while I was shopping…isn't it AWESOME?" Your designer can now discuss what you like about it and find ways to incorporate that style into your own logo. Inspiration can come from anywhere. Keep a log of photos.
Knowing what you DON'T like is just as helpful. I have clients who get frustrated while trying to find inspiration and nothing catches their eye. Talking about what you don't like and what your pet peeves are actually helps us get to your "likes". If you have a strong aversion to green, we can stay away from green. Maybe we can even check out green's opposite color, such as red/purple hues, like magenta, hot pink, and crimson. Don't like color? Many brands are taking the clean earth-tone or black and white geometric route these days, so we'd discuss that style too.
It's 2019, and more and more designers are trained in the handling all of the brand aesthetics. You can get a logo, website, business card, brochure, and even packaging under one roof. Be prepared with a business plan before diving into design, and please share this plan with your designer. Knowing sales numbers, what has worked in the past, what customers are responding to, and what customers want to see more of can help with design. If you're a new business, you STILL NEED A BUSINESS PLAN. I left that in caps, because it is very important to go into creating something with a strategy!
Be prepared for a process. If you're able to get a logo, packaging, and a business card in one day, something is wrong, and you aren't being catered to properly. Let your designer really get to know you! Your brand can be all about you, your personality, and what you stand for. Or paint a very vivid picture of your brand when you describe it—let your designer know that your brand is organic, vegan, and the target audience is millennials. These little details all matter in how your brand will be designed.
Don't cut corners when making it look right—you get what you pay for in this industry. Set aside a budget ahead of time. There is nothing wrong with calling a few firms and designers to find out who has the best experience in handling your needs. In fact, I encourage my first-time clients to "shop around" when they sound uncertain on the phone. I want to work with someone who can put their trust in me, and these nervous clients come back because they appreciate my honesty and my concern for their comfort during this daunting process. Work with someone who gets you.
Best of luck with your business!