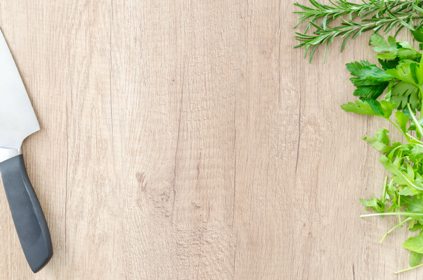 The use of herbs has been incredibly important throughout history. Many spices have been celebrated for their medicinal properties, well before their culinary use. Modern science has now shown that many of these spices do indeed carry remarkable health benefits. And incorporating fresh spring and summer herbs into your meal can take it from good to fantastic with little to no effort. Fresh herbs infuse distinct flavors into a dish and pack a significant antioxidant punch. Here are some spring/summer herbs that are in season right now which you can use in all foods, but are especially delicious in summer salads. (See my summer salad recipes at the end!)
Note: If you are cooking a dish, always add fresh herbs at the end of cooking! Feel free to use liberally in fresh salads.
Here are 10 of the world's most popular healthiest herbs:
Basil—There are over 30 varieties of this plant, with sweet basil being the one you'll most commonly find in stores. While we love basil in classic Italian dishes, we now know that it is also a good source of magnesium and helps blood flow. As a good source of vitamin A, it promotes healthy eyesight, and because it contains eugenol (a major component of the oil produced by basil's leaves), it has also been shown to be an effective anti-inflammatory, in the same vein as aspirin and ibuprofen. The variety known as holy basil helps fight infections and boosts immunity, as well as reduces blood sugar and inhibits the growth of bacteria, yeasts and molds.
Cilantro—This spice has a fragrant, fruity, and citrusy flavor which is perfect for salads. Because cilantro has a strong taste, people either love it or hate it. Cilantro is actually the leaves of the coriander plant.  Research is showing evidence that cilantro is useful as an analgesic and anti-inflammatory drug, in addition to having a high anti-oxidant content and antibiotic properties. Cilantro is high in vitamins A and C.
Dill—This feathery and fresh green herb adds an aromatic bite to your favorite salads. Popular in Greek and Italian cuisines, you'll also get a significant boost of vitamin C, an important antioxidant which helps your body resist infection. Dill is also a good source of fiber, folate (which is important for cell division and production of DNA), calcium (for healthy bones), riboflavin (for cell function and development), manganese, and iron.
Fenugreek—This herb has been commonly found in Ayurveda (an Indian system of medicine) and Indian cuisine. It has been said to enhance libido and masculinity, and it also improves blood sugar control. While its effects on testosterone levels are inconclusive, fenugreek does seem to have beneficial effects on lowering and regulating blood sugar levels.
Garlic—Throughout ancient history, the main use of garlic was for its medicinal properties. Garlic supplementation is well-known for combating sickness, including the common cold. There is also convincing evidence that garlic has beneficial effects on heart health. For those with high cholesterol, garlic can reduce one's total and/or LDL cholesterol. In addition, garlic supplementation can cause significant reductions in blood pressure.
Mint—Otherwise known as peppermint, mint has a long history of use in herbal medicine and aromatherapy. As is the case with many herbs, it is the oily component that contains the agents responsible for the health effects. Many studies have shown that peppermint oil can improve pain management in irritable bowel syndrome. It appears to work by relaxing the smooth muscles in the colon, which relieves pain experienced during bowel movements. It also helps to reduce abdominal bloating, which is a common digestive symptom. There are also some studies showing that peppermint in aromatherapy can help fight nausea. In a study of over 1,100 women in labor, peppermint aromatherapy caused significant reductions in nausea. It has also been shown to reduce nausea after surgery and C-section births.  Peppermint is an amazing ally for flu season because it is known to break fevers, soothe pain, and calm stomachaches in record time.
Parsley—Don't ignore this popular restaurant garnish—it actually has a lot of benefits! One cup of chopped parsley provides over one thousand percent of your daily value of vitamin K, plus it's rich in myricetin, a flavonoid that may have anti-cancer properties. Additionally, parsley is known to be anti-inflammatory. Although parsley looks strikingly similar to cilantro, the taste is much milder. Parsley is also a great breath freshener on its own.
Rosemary—The active ingredient in rosemary is called rosmarinic acid. This substance has been shown to suppress allergic responses and nasal congestion. Rosmarinic acid has anti-inflammatory effects that appear to suppress allergy symptoms and reduce nasal congestion. It is also a good source of iron, calcium, and vitamin B6, and research has shown that rosemary may deter the formation of carcinogenic compounds during grilling. It's best to use rosemary during cooking or for marinades, and the sprigs can be used as skewers.
Sage—Current research indicates that sage may be able to improve brain function and memory, especially in people with Alzheimer's disease. Alzheimer's disease is accompanied by a drop in the level of acetylcholine, a chemical messenger in the brain. Sage inhibits the breakdown of acetylcholine.
Thyme—This spice has a minty, earthy, lemony flavor with a hint of pine. It is believed that the oil of thyme may have antimicrobial properties, and thyme itself is a good source of vitamin C.  Thyme and rosemary are easily confused, probably because the taste is rather similar. Rosemary can also be described as lemony with a hint of pine, but it has a more woodsy taste than thyme.
Some lesser known spring/summer herbs, such as chives (milder, sweeter green onions), lemongrass (a green plant which looks like green onions but is lemon-flavored), and tarragon (an aromatic green), are rich sources of vitamins A and C, calcium, and iron. Lastly, we all love oregano, an herb which is not only popular in Italian dishes, but also rich in antioxidants, with anti-bacterial, antibiotic, antiviral, and anti-inflammatory properties.
Whether you buy herbs at the store, have a backyard herb garden, or grow herbs on your kitchen windowsill, this season's herbs have numerous health benefits and can effortlessly add vibrant flavors to your everyday spring and summer meals. Here are two unique and easy-to-make recipes with fresh herbs to help make your salads tasty and healthy!
Herb Salad
A medley of fresh herbs—basil, thyme, parsley, cilantro, and mint—combined with arugula, grape tomatoes, shredded mozzarella, and two types of olives for a bright, intensely flavorful end-of-summer salad.
Ingredients:
·        1 cup grape tomatoes, halved
·        Kosher salt
·        1 TBSP balsamic vinegar
·        1 TBSP extra-virgin olive oil
·        ½ TBSP freshly-squeezed lemon juice from 1 lemon
·        Zest from ½ lemon
·        1 ½ tsp dijon mustard
·        Freshly ground black pepper
·        3 cups baby arugula
·        1 cup roughly chopped cilantro leaves and tender stems (from about 1 bunch)
·        ½ cup fresh mozzarella, shredded by hand if very fresh and milky, or on a box grater if more firm
·        ½ cup roughly chopped parsley leaves and tender stems (from about 1 bunch)
·        3 TBSP roughly chopped basil or Thai basil leaves (from about 3 sprigs)
·        3 TBSP roughly chopped mint leaves (from about 3 sprigs)
·        2 TBSP roughly chopped pitted oil-cured olives
·        2 TBSP roughly chopped pitted kalamata olives
·        1 TBSP picked lemon thyme or thyme leaves
Spring Greens Salad
This bright spring salad is a celebration of green veggies! Crisp asparagus, peas, and radishes contrast perfectly with soft mozzarella and an herbed vinaigrette. It's a great vegetarian dinner, side, or lunch.
Author: Jeanine Donofrio
Ingredients:
Basil & Mint Dressing:
·        ¼ cup fresh basil or mix of basil and mint
·        1 small garlic clove
·        1 TBSP lemon juice, plus some zest
·        1 TBSP white balsamic vinegar
·        2 TBSP extra-virgin olive oil, more as desired
·        Sea salt and fresh black pepper
Spring Greens Salad:
·        1 bunch of asparagus, tender tops only
·        ½ cup peas
·        A few handfuls of salad greens
·        ½ cup chickpeas, drained and rinsed
·        A few sliced radishes
·        ½ cup sliced mozzarella balls (vegan substitue: avocado)
·        Handful of chopped, toasted pistachios
·        Handful of herbs: chopped basil, mint and/or chives
Directions:
Make the basil & mint dressing: In a food processor, pulse together the herbs, garlic, lemon juice and zest, balsamic, olive oil, salt, and pepper. Taste and adjust seasonings. Set aside.

Prepare the salad: Chop your asparagus into 1-inch pieces. Blanch them for about 45 seconds in a pot of boiling, salted water. Remove immediately and transfer asparagus to a bowl of ice water. Let cool, then drain. (If you're using fresh peas, blanch the peas as well. If you're using frozen ones, just let them thaw and add them to your salad raw).

In a large bowl, toss together the blanched asparagus, peas, salad greens, chickpeas, radishes, and mozzarella. Add as much of the dressing as you like and toss again. Add the pistachios, chives, and mint. Taste and adjust seasonings. Transfer the salad to a platter and serve.
Note: This salad can be made up to a day in advance—just leave out the salad greens until you're ready to serve.