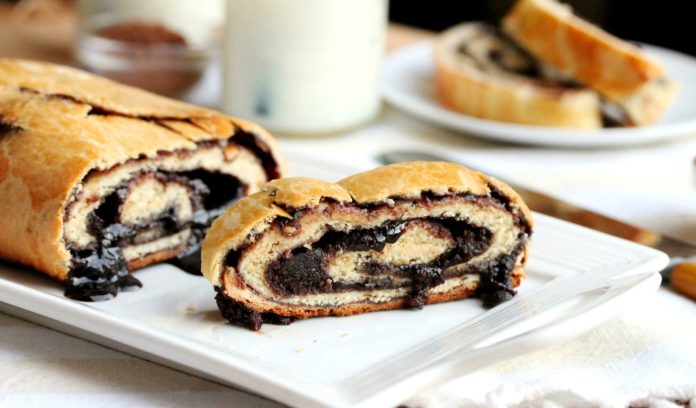 Babka is a yeasty cake that is currently experiencing a renaissance, but there is an even better alternative: kokosh cake, the Hungarian version. This doughy, chocolaty and/or cinammony rolled delight is a delicious antidote to bitterness and depression. It's not really a dessert. It has eggs in it, so it could almost be considered a protein.
My grandmother, Malka, known to me as "Babby" (not "Bubbie", which is the Germanic/Polish term of endearment for grandmother—we are Hungarian Jews, speaking a hillbilly Yiddish, if you please) would make this treat every week using twenty-five pounds of flour. She would proof the fresh cakes of yeast, watch it bubble with a small smile of satisfaction, and blend all the ingredients for the dough. She would roll out the dough on a marble slab, slathering it with a mix of cocoa, white and brown sugar, and oil. All of these ingredients, mixed in a large stainless bowl, were painted on with the careless artistry of Picasso. She would then tightly roll up the whole thing, place all the completed loaves on a parchment-lined baking pan, brush it with a beaten egg and bake it in the oven. The smell would permeate the house, and to this day, the scent of baking bread mixed with the heady aroma of hot chocolate makes my mouth water.
All was well with the world when you ate a slice of this beautiful, rolled-flat cake with a cup of coffee.
Babby died at the age of 90 in New York City on a frigid day in March, 1996. I spoke with her the morning before her death. A woman had visited her hospital bed in Manhattan and had invited her to come to Monroe, an hour's drive away, for the Sabbath. She smiled and said, "Don't you worry…I'll be in Monroe for the Sabbath." She was buried in the Monroe cemetery that Friday morning, the ground frozen and the wind bitter.
The taste of that kokosh was gone forever. So much was lost. The energetic rhythm of her kneading, the slop-slop sound of dough hitting the floured counter, and the wild plastering of her chocolate "paint" (she used an actual paintbrush to spread it on the dough). Her essence, the woman she was, was baked into the dough. There were times when she would cry as she shaped the logs, every tear imbuing a salty, wistful taste to her creation, a haunting reminder of the tragedies she had suffered. She would interject sage bits of advice on every subject as she baked, honed from a lifetime that included 2 world wars, giving birth to 18 children, losing 9 of them, watching many family members die, moving to the United States knowing only 5 words of English and living to see great great grandchildren.
Every loaf had a small piece of her in it, and now that was gone forever. I recognize myself in those people who write to Recipe Corner, looking for the nostalgic taste of home. I know the ingredients themselves aren't the same: the soil, the water, and even the air, is different than it was thirty or forty years ago. The fresh cake yeast she used is sold directly to bakeries and is almost impossible for home bakers to obtain. The flour she used can only be bought on the internet. Her mottled, arthritic hands, which shaped each loaf, are no longer alive. She had many grandchildren, yet never uttered the exact number lest the evil eye pluck another family member away from her.
I hear her voice: "Baking is like a woman. You have to realize that you cannot do substitutions. The yeast needs to be proofed. The flour sifted. Everything has to be right in order for the dough to rise properly. You have to treat a woman with respect. Know that it takes her time—just like the dough needs. You can't rush her. You can't push her. You have to knead the kinks out of her, make her smooth, moisturize her with the oil and cover her. She needs her rest in order to grow."
When she would do the second kneading, her tone would change: "Now you are going to push this dough hard. Give it all you've got! In order to become something special, someone that gives happiness, you have to push the dough—push yourself!"
I have tasted many babka, kokosh, and other yeasty, doughy, chocolaty creations. I have visited bakeries in the United States with a sizable Central and Eastern European population. No luck. I have even traveled to Austria, Hungary and Czechoslovakia on my quest to help me taste the essence of her once again. I have offered silent prayers at every bakery that looked like they had something for me. No success. I have spent nearly twenty years in search of that elusive quality she put in her kokosh.
My father passed away after a protracted illness in August. After his burial, we sat shiva, the Jewish week of mourning. We had hundreds of visitors, and as is the Jewish custom, carbohydrates are the drug of choice for the bereaved. Someone brought a plate of kokosh, and in the habit of two decades, I made my silent prayer that it should taste familiar. I took a small piece and put it in my mouth. My tongue tingled with the thick chocolate cutting through the silky, yet heavy, dough. Tears sprung from my eyes…a taste of Babby. She was now greeting her youngest son in heaven—my father—and to send me a bit of consolation, she had sent a piece of her trademark cake to sweeten the bitter blow.